Extension Foundation Online Campus

OSU, OCES and 4-H Youth Development expects faculty, staff, volunteers, leadership teams, and teen volunteers who interact with youth under the age of 18 do so appropriately and in accordance with University policy.
In 2013 the OSU A&M Board of Regents approved policy 1-0135 regarding minors participating in OSU related activities and programs. The policy applies to ALL interactions with youth participating in 4-H club meetings, 4-H activities sponsored by a club, county/district/state activities and events, overnight camps, day camps, workshops, school enrichment/CNEP/EFNEP programs, practices and workouts, campus-based activities, and/or any other Extension hosted program or activity.
Oklahoma State University requires both staff and volunteers complete an annual review of the OSU policy regarding work with minors.
For more information contact Leah Haxton, Oklahoma State University, at Leah.g.haxton@okstate.edu or Karla Knoepfli, Oklahoma State University, at karla.knoepfli@okstate.edu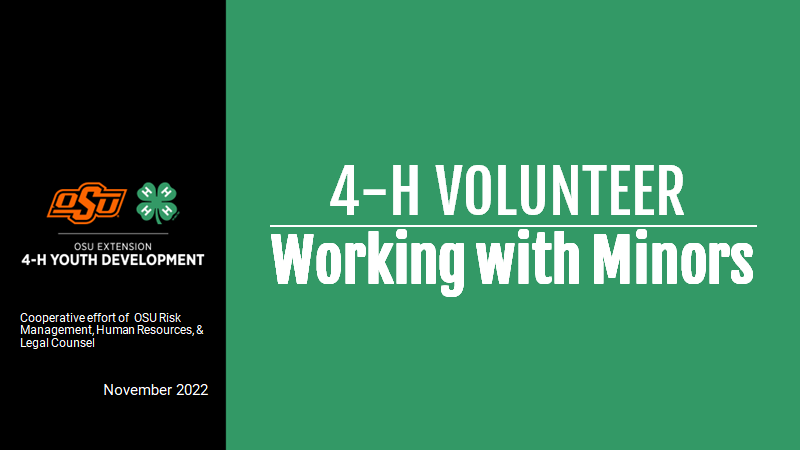 This 12 minute video overview explains our civil rights responsibilities for all Extension staff, volunteers, advisory councils, and committees.
Everyone making a decision or carrying out actions on behalf of Extension is responsible to make sure the program is inclusive as we serve the people of Oklahoma.
For more information contact Leah Haxton, Oklahoma State University, at Leah.g.haxton@okstate.edu or Karla Knoepfli, Oklahoma State University, at karla.knoepfli@okstate.edu