Farm Security
Section 5. Structures and Utilities
Snow Load Capacity of Structures
Knowing the snow load capacity of your barns and other buildings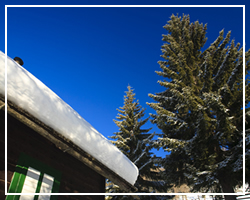 helps ensure the safety of your family, your employees, and your livestock. Snow load is the load, in pounds per square foot, placed on the exterior of a structure by snow accumulation. The snow load capacity for each structure must be determined on a case-by-case basis and is determined by the building materials used and the style of construction, as well as roof surface area.

Snow is crystallized frozen water and water is heavy. Water weighs about 62 pounds per cubic foot, so one inch of water weighs a little more than five pounds per square foot.

That same inch of water is equivalent to about 10 inches of dry, cold snow. This means each inch of dry, cold snow weighs about a half a pound per square foot. And the type of snow makes a difference:
12 inches of dry snow equals 5-6 pounds per square foot of load.
3 inches of wet snow also equals about 5 pounds per square foot of load.
Imagine the pressure this creates sitting on a roof. Agricultural buildings should be built to carry from 24 to 34 pounds of snow per square foot depending on location.
Check your insurance policy to determine if snow load is covered. Sometimes structural failure due to snow is not covered on agricultural buildings without a purchased rider.