Farm Security
Section 3. Emergency Information for Responders
Here is information about emergency responders.
Properly Marking Your Farm Entrance
In section three, learn how to make it easy for emergency responders to locate your farm entrance. In addition, find out why it is important to have a farm map and to maintain your roads.

Have you ever been invited to visit a farm for the first time and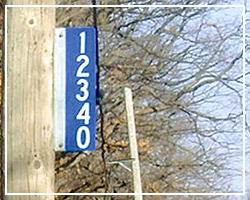 had
trouble finding it, especially if the buildings couldn't be seen from the road?

If your entrance is difficult to identify by visitors, the fire department and other emergency responders will have the same trouble when time is of the essence. Too often mailbox addresses are partially or totally missing. Some addresses are too small to read, others cannot be read in the dark, and some may be seen from only one direction.

Be sure your 911 emergency address is boldly displayed in 3-inch reflective numerals on the front or both sides of your mailbox or on a post on the main road. Your emergency address can also be placed on a utility pole to make it more visible. Be sure the address can be clearly seen from all sides so it is easy to find your home and farm.