Farm Security
Section 4. Safety and Security Measures
Safety and Security Measures
Electronic Security
Do you have barns, equipment, chemicals or other materials that are easily accessible? Learn how to make them more secure by taking additional security measures in Section 4.

Electronic security devices can help protect your farm, but the cost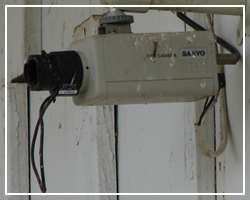 can only be justified if they have been recommended as a result of a credible security assessment. Your insurance agent and local law enforcement can make recommendations to help you determine your needs. Some types of electronic systems and devices are well suited for farmsteads.
Electronic card access controls, rather than keyed locks, can be used to restrict access where valuables are stored. They can record the date and time of entry and the specific card used to gain entry, identifying the person whose card was used.
Video surveillance systems consist of cameras, monitors, and recorders. The most effective use of video is to combine it with devices such as motion sensors that detect an intrusion. A motion sensor triggers an alarm and activates the video recorder in the area where the motion is detected.
Digital recordings are more efficient and effective than traditional audio tape recordings because they record images as well as sound and the tapes can be viewed selectively. A digital recorder is a computer that allows the user to retrieve and view video selectively by date and time of recording.
Alarms can be activated by the opening of doors, windows, gates, lids, etc. and can be monitored at the farm or at approved, off-site alarm monitoring stations. When alarm signals are transmitted to a monitoring station, personnel follow pre-established protocols, which usually include calling the police. In addition to signaling a monitoring station, an activated alarm might trigger lights and sirens and/or place an automatic call to your cell phone.